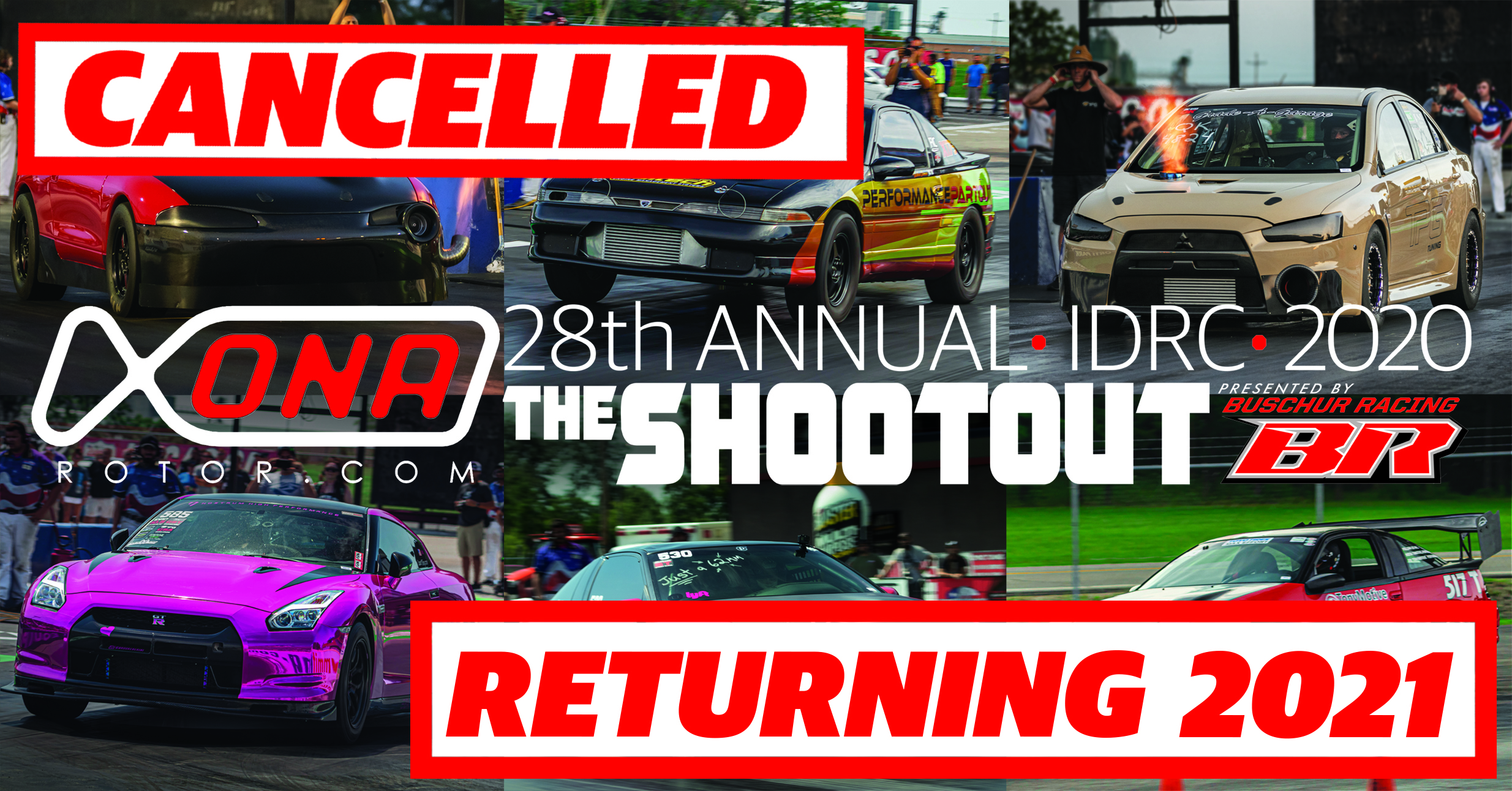 IMPORTANT INFORMATION
The Shootout 2020 CANCELED, RETURNING IN 2021
In our 22 years of producing over 150 import drag racing events, the decision to cancel this year's The Shootout just 10 days before the event was the hardest decision we have ever had to make. Racers, fans, sponsors and event producers have all been taxed this year with making the right decision given only limited information. We have all been trying to hit a moving target while blindfolded in the dark when it has come to making decisions. Sometimes we have been lucky enough to get it right and other times we have missed the target completely. Our apologies go out to everyone inconvenienced by our decision. In the end, the health and safety of our community had to take precedence over our desire to produce The Shootout during a pandemic. Both Erie and Marion county have been classified as "red" or Level 3 Public Emergency counties for Covid 19. The Ohio Board of Health has identified these counties as very high exposure and spread with a recommendation to limit activities as much as possible. Ohio has also not changed its stance on allowing spectators at motorsports events. The Ohio state government is also advising a 14-day self-quarantine for travelers from seven states including Mississippi, Arizona, Florida, Alabama, Idaho, Kansas and South Carolina.
The Shootout has become synonymous with the annual gathering of the world's best DSM, EVO and GT-R enthusiasts. It has been the ultimate opportunity to share the trials and tribulations of our project builds, showcase our shop demo cars and provide our community a chance to celebrate.
To the racers, crew and spectators that already purchased tickets. THANK YOU for your support even with dark clouds in the skies. Refunds will begin processing tonight through theFOAT.com.
With a successful execution of Operation Warp Speed, our country should be vaccinated by January of 2021 and Covid-19 will no longer affect our daily lives. All 2020 sponsors originally backing the event will be back for 2021. For 2021, we shall be returning to the birthplace of the Shootout (Summit Motorsports Park). Thank you for your continued support.
GENERAL INFORMATION
Fri 08/14/2020
Buschur Racing – Wakeman, OH
Sat 08/15/2020 – Sun 08/16/2020
Marion County Raceway – Larue, OH
Event schedule coming soon.
COVID19 Considerations:
The health of the Shootout attendees is our first priority. Social distancing will be enforced at The Shootout this year. We are asking all attendees to wear masks whenever possible and to bring hand sanitizer. If you don't feel 100% or you have come in contact with those infected Covid19, please skip The Shootout this year.
Pricing
Racer $100,
Test-n-Tune Sat or Sun Only ($50/day),
Crew/Fan $40 (2-day) or $25/day Sat and Sun.
Pre Registration is available at Here.
The online ticketing process for crew/spectators is quick, easy and painless. You will purchase your tickets on theFoat.com for the event and you can either print them out of save them to your smartphone where they will be scanned at the gate. For the racers, set aside 20 minutes for the process. The process will involve three stages. Stage 1, you will need to create an account on theFoat.com. Not much information besides your name, email address and a password are really required, but you will need FIVE pics of your car. Once you have created an account, you will then need to fill out a tech car. This is a legally binding real tech card that will take the place of a tech card filled out at a track. Best of all, this gets saved at theFoat.com and can be used for other events. Once you have a tech card completed, you can then purchase a race entry and fill out the form.
For video outlines the process click
Here
.
Online Ticket Sales Only:
Please get tickets ASAP. So that we are prepared for the number of racers and crew that will be attending the event, we need participants to purchase their tickets this week so that we can have enough facilities and food on hand. The amount of presale for each class will also let us know if we have full fields or if we must consider the combining of any classes.
Overnight Camping:
For the racers and crew that want to camp at the dragstrip, we have worked with the Marion County Raceway to finalize a plan that will allow the facility to host those looking to camp overnight both on Friday and on Saturday nights. Campers will be required to do the following:
1. Racers: purchase a racer tech card (Sat/Sun) or a Test-and-Tune/Fun Run tech card for both Saturday and Sunday on
theFOAT.com
by this Sunday, July 19th.
2. Crew: purchase both a Saturday and Sunday spectator pass in
theFOAT.com
by this Sunday, July 19th.
3. Per Group: Must purchase a camping pass (1 per vehicle) for $30 on
theFOAT.com
by this Sunday, July 19th.
a. The money collected for camping passes will allow the staffing of gate personal to allow campers access into and out of the track after the normal event hours.
4. Friday Entry: Those wishing to camp on Friday have the option of participating in the Friday night Test-n-Tune event from 6-11pm. This would require purchasing tickets at the gate for this event. For those not participating in the Friday night Test-n-Tune event, you may enter between 11:00-11:30pm at no charge.
Class Rules
QK_FIC Quick 32 Class Shootout Rules 2020
PR_Pro RWD Class Shootout Rules 2020
ST_HALTECH Street 32 Shootout Rules 2020
SE_Morrison Fabrication Street Eliminator Shootout Rules 2020
SA_Exedy Racing Clutch Stock Appearing Shootout Rules 2020
GTR_R35GT-R Classes Shootout Rules 2020
¼-MILE DRAG RACING:
While Marion County Raceway has one of the longest shutdown areas of all the tracks in Ohio, the first 600-800 feet after the finish line are not in the best condition. This area has had the asphalt scraped with the intention of repaving with new asphalt. While there are no potholes, there are some patterns in the scraping that can cause the skinny front tires to exhibit bad behavior. Past this area, the shutdown pavement is in satisfactory condition. If you are racing a vehicle with standard width front tires or you use a parachute, the shutdown area should pose no issues. If you have a RWD vehicle with skinny front tires and are running 8s or quicker, you should consider an 1/8-mile class. All of the following classes are confirmed to run full ¼-mile:
a. All IDRC Index classes 12.5-, 11.5-, 10.5- and 9.5-second
b. The Following IDRC Heads-Up Classes (non-GTR)
i. Stock Appearing
ii. Morrison Fabrication Street Eliminator
iii. Exedy Racing Stock Appearing
iv. Haltech Street 32
c. The Following R35 GT-R Classes
i. GTR Stock
ii. GTR Stock Appearing
iii. GTR Eliminator
The following classes will run 1/8-mile* (unless all competitors in the class are comfortable with the shutdown area available):
a. FIC Quick 32
b. Pro RWD
c. GTR Pro Street
d. GTR Quick
Like Us On Facebook